Are you a designer, Blogger, Developer, or Content creator that is looking for the right images for your personal or business needs? then you are at the right place.
You might even own an online store, website, or social media following you, and you would want to make use of good images but don't have time or resources for product photography.
Here's the good news: a large collection of beautiful free and paid stock images websites for commercial use is available online. You just have to know where to find them.
Let's take a look at this already curated list of some of the best free stock image sites you can choose from in 2023.
Unsplash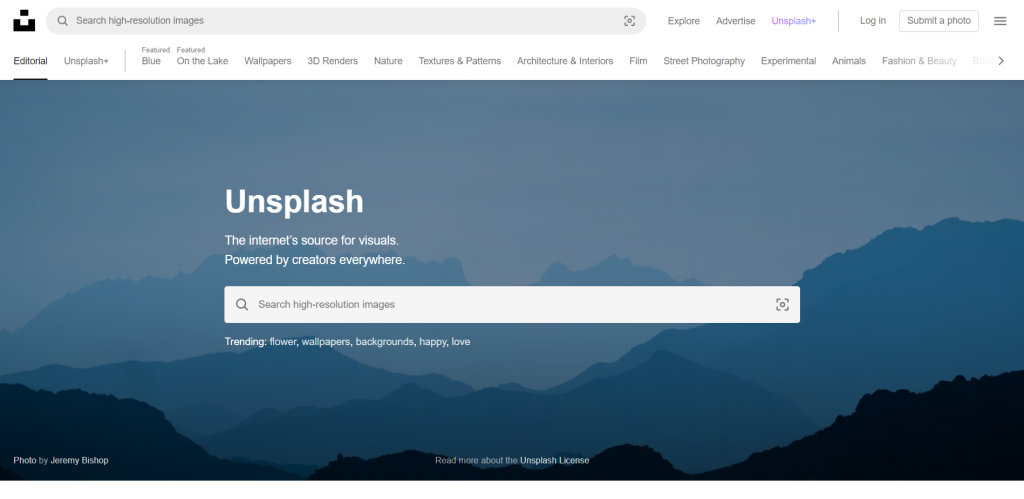 More than 2.5 million beautiful stock images captured by a large worldwide community of photographers are available on Unsplash.
Every single image on Unsplash is available for free download and can be used any way you see suitable.
You can download images and view them from your computer, iPhone, or iPad when you register for a free account on this stock photography website.
Freepik
For creators looking for top-notch Photoshop templates and beautiful stock photos, Freepik is a fantastic free image resource.
The website offers free over four million files, including vectors and illustrations.
If you want to use Freepik's resources for business or personal use, always bear in mind that you must give proper attribution to the owners.
They also offer a premium plan which offers a lot more; you get access to more exclusively premium images, illustrations, PSD, Vectors, etc.
However, suppose you don't have to resources to pay for their premium plan. In that case, you can simply use these tools like the Freepik Downloader or the Freepik Downloader, any of which allows allows you to download premium images for free without watermarks. 
Pixabay
Over 2.2 million stock photos, movies, and music clips are available for download on the free stock website Pixabay.
It provides modifiable royalty-free images from contributors that anybody may use without asking permission or giving credit to the photographer.
The themes covered by the stock photos on Pixabay are diverse. The Pixabay license, comparable to the Creative Commons CC0 but a little more restricted, is used for all images.
Pexels
Pexels is a free image and video repository with a Pexels license similar to the CC0 license. Pexels-licensed images can be downloaded, copied, distributed, and modified.
Thousands of images posted by the Pexels community are the source of the hundreds of thousands of images on this stock photo website.
On the site's discovery pages, every photo is labeled, searchable, and accessible.
Shutterstock
Shutterstock is a top source of licensed royalty-free images, vectors, illustrations, and audio for customers and businesses worldwide.
It has a community of more than a million creators who are constantly adding hundreds of thousands of new creative resouces.
Over a billion images, videos, and music have been downloaded through Shutterstock to date. It has clients in more than 150 countries and a more than 300 million free stock photos database.
Getty Images
Getty Images offers over 200 million assets, including royalty-free images, editorial photography, video, and audio.
Getty Images focuses primarily on businesses, media, and advertising creative professionals from different industries.
You need to buy a license to use the majority of photos. However, you can use images for free with Getty's Embed function, which is only for non-commercial usage.
The truth behind the deal? The Getty Photos watermark is included at the bottom of the free photos and cannot be removed.
So you go with the deal or just go for another service.
Canva
Canva has a very well-known graphic designer who also provides free stock images.
Millions of commercial and free stock images are available for download or use in the Canva design editor.
Without switching between tabs, you can toggle between images and colors of your preference.
iStock
Another widely recognized source for royalty-free images is iStock by Getty Images. It provides millions of widely used images, illustrations, clipart, videos, and audio samples.
Additionally, it is renowned for rewarding contributions handsomely. While most assets need a license charge, iStock does provide free stock photos every week for download for their users.
Adobe Stock
Premium stock images from Adobe Stock are well-known for their high cost. But did you realize that it also provides a collection of no-cost images and videos?
You can start by browsing and then selecting photo galleries of popular subjects, including spring, nature, and landscapes.
Also, you can visit its library of free 3D models, templates, and drawings for use in your upcoming personal or professional projects.
Depositphotos
With more than 202 million assets accessible for download, Depositphotos is a global marketplace for stock photos.
You can browse through topical collections of free stock images and other resources that are reputable and used by businesses like TripAdvisor, Forbes, and Subaru.
Although the website offers over 69,000 excellent images for free download, many photos are also available for purchase.
StockSnap.io
The same team behind Snappa, a graphic design tool, also developed StockSnap.io, a free stock imagine website.
With new images being added every week, it offers hundreds of high-resolution images.
The search feature is simple to use and offers a number of sorting options, including popularity, views, downloads, favorites, and more.
The library was created through user contributions and showcased a cutting-edge, contemporary look that is unrestricted by copyright and is perfect for your projects.
Vecteezy
With a free subscription, you will have access to more than 300 CC0 pictures on Vecteezy. But to see the majority of its images, you must purchase a Pro subscription. Its monthly starting price is $9. Their membership benefits include the following;
Access to a database containing millions of photos
License for the commercial use of photos. Etc.
Stockvault
Over 138,000 images covering a wide range of subjects are accessible on Stockvault.
For you to download and use without fee, it crowdsources images from producers worldwide. Overall, the photographs are of outstanding quality.
The only problem is that Stockvault offers three distinct licenses, so double-check that you can use a certain picture for what you want.
Pikwizard
Over a million royalty-free photos are available on the free Pikwizard website.
It even provides free wallpapers and background graphics that can enhance your website or blog lookout without permission.
Reshot
Another free stock picture library is Reshot. The best part about this website is that you can even download images for free in SVG, PNG, or vector formats.
Because you won't have to bother about converting images into certain formats, you can just download them in the format you want, saving you time and hassle.
Picography
Picography is a tiny, free stock photo website with excellent pictures.
It's simple to use and contains a wide range of useful categories that are suitable for many different sorts of organizations.
Despite the fact that Picography does not need credit for the images you use, each image still contains the title and the name of the photographer in the corner.
Freestocks.org
Freestocks.org is a great place to start your search for photographs with a professional appearance if you're seeking any.
Three photographers with full-time jobs built the Freestock library in their spare time.
So while the selection might not be as extensive, it is totally free, and each image is clearly the work of a photographer who is skilled in lighting, editing, and composition. Do check it out.
FreeImages
Over 380,000 shareable royalty-free stock images are available from FreeImages.
For those who want to use them for social media, advertisements, printed materials, websites, or any other project you're working on, you can license them.
You can also get free images for topics like fashion, fitness, business, family, travel, and more.
Freerange
Freerange is a typical free stock photo website with a huge collection of photographs available for download.
Both internal and contributor-submitted photos are taken.
The topic matter covered by the collections includes backgrounds and textures, animals and insects, technology, and vintage images. Every day, more images are posted.
Icons8
Icons8 provides an excellent stock image collection named Moose. As long as you don't mind downloading a JPEG with low resolution, you get free access to all of their pictures.
Icons8 charges $5 per photo or $13 per month (which entitles you to 50 photo downloads per month) if you want to be able to download their images in high-quality PNG format.
Foodiesfeed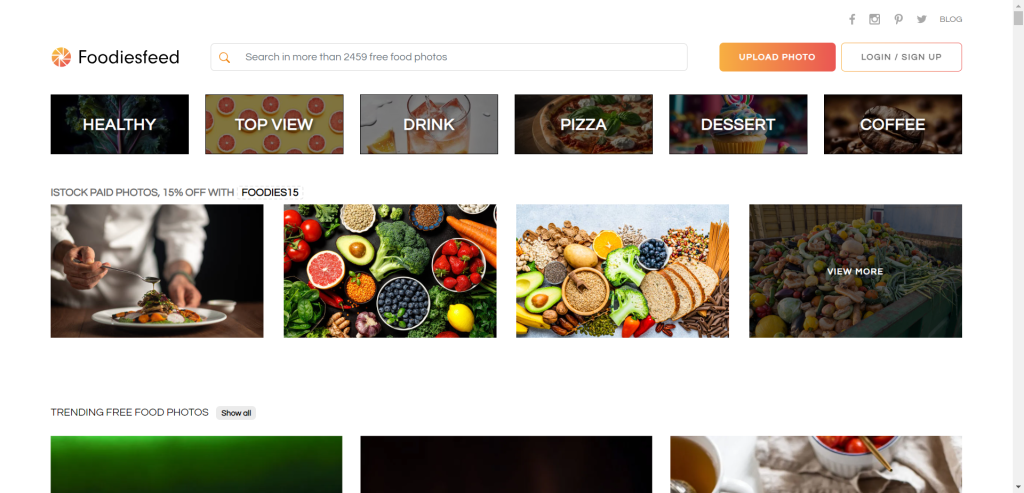 The top free website for food photography stock photos is foodiesfeed.com. Use the easy search functionality and the amazingly simple-to-use tags to browse more than 2,000 photographs.
Any food-related website searching for modern, high-quality images that are free for commercial use would love Foodiesfeed.
Also Read: The Role of SEO in Small Business Website Design
Final Thoughts
You can get high-quality free stock images from the websites we listed above. No matter the topic you are interested in, you will always find what works for you.
Some of these websites, like Pixels, and Unsplash, are free, but some, like Freepik and iStock, offer a freemium plan where you get some free images and can subscribe if you want more exclusive collections.
Always go for what works for you; if you feel you would love to pay for some premium stock images, then do it, but overall you can always get some good for free with the above list.